A Primer on Folding Knives

By Steven Roman

Email:

Author's web site
About the Book
A Primer on Folding Knives is a comprehensive guide to folding knives. It is designed for both new and experienced knife users who want to expand their knowledge of folding knives.
Chapter 1 contains a detailed discussion of knife terminology and anatomy, knife operation and knife materials, including blade grinds, bevel angles, locking mechanisms and potential issues with locking mechanisms, ball-bearing pivot systems, blade construction, blade coatings, blade finishes, knife care (such as removing scratches from DLC-coated knives) and more.
Chapter 2 on steel metallurgy is a comprehensive but not overly technical chapter on the properties of steel that are important to knife blades, the heat treatment of steel and its effect on the steel at a molecular level. It also describes the effect of different amounts of carbon and alloy metals on the final properties of a knife blade. The goal of this chapter is to give you an idea of why it is so difficult (or even impossible) to produce the perfect steel for knife blades.
Chapter 3 is a comprehensive look at knife sharpening, including a discussion of sharpening techniques, freehand sharpening equipment (ceramic and diamond stones), sharpening systems including the Work Sharp, the Edge Pro, the KME and the Wicked Edge, and a detailed discussion of stropping, including nano-stropping with exotic materials.
What Master Knife Makers and Others Are Saying About the Book
Mel Pardue—Master Knife Maker
"This book is one of the best books on Knife Anatomy, Steel Metallurgy and Sharpening that I have seen. I very much enjoyed the Section on Steel Metallurgy. This book would be a great reference book for anyone that makes knives or collects knives." Mel Pardue Knives
Matthew Lerch—Master Knife Maker
"A Primer on Folding Knives is very thorough. It contains detailed information on all aspects of the modern folding knife. A good 'go to book' for anyone interested in knives, knife terminology, knife anatomy, opening and locking mechanisms, knife care, knife sharpening and steel metallurgy." Lerch Custom Knives
Kyle Crawford—Work Sharp Brand Manager|Darex, LLC
"With 'A Primer on Folding Knives' Steve Roman has created an essential desk reference for any knife user or enthusiast. While he dives deeply into complex topics like metallurgy, sharpening and blade geometry, he does so with detail and clarity that allows anyone to understand and learn. His brilliant use of photography and imagery also make the book easy to follow, understand and more importantly easy to enjoy. I also appreciate how Steve conveys the information based on his extensive research and experience and is clear about his personal biases and opinions and does not present them as fact. This is a complete resource on folding knives and has earned a place on my desk for frequent reference." Work Sharp web site
Customer Reviews
"I am amazed by the content in this informative book by Steven Roman. I am experienced knife collector and thought I knew about folding knives. Since this book arrived, I have not been able to put it down, it is so full of relevant information that I thought I knew, but didn't until now. Every collector of folding knives just has to read this great book to be informed. It is well written and I highly recommend this book for anyone interested in knives no matter if you are new to folding knives or a serious collector. The information is that good." Richard W. Davies
"If you are relatively new to folding [knives] this book is a must. You'll learn more from it's pages than from months on the Internet. But that does not mean it is shallow or non-technical! Old hands at the knife hobby will learn a ton that they had no idea that they didn't know. This is good stuff." Amazon Verified Purchaser
"I bought this book at a Knife Show 2015 in Orange County directly from the author, Mr. Steven Roman. He is a nice humble person. After I read the book I found it was so informative. It was well written in a technical term but easy to understand. The book provides information that will help you to understand deeper in the subject of knife making or knife collecting. Well done Professor Roman." Donna Nguyen
"Have you ever heard of a man named Steven Roman? He is a retired mathematics professor who also collects and uses knives and has a deep interest in metallurgy. I am reading his book: " A Primer On Folding Knives". It is SUPER EXCELLENT. He has good information on some of our favorite steels such as ZDP 189 and one of his favorite everyday carry knives is the Spyderco Tenacious, which he gives info on. He also discusses and shows experience, pictures, and info on knife sharpening systems and methods that would be very useful to forum members. Cliff: You would enjoy this book greatly as would everyone else here." SpyderEdgeForever, on the Spyderco Forum (www.spyderco.com/forumII)
Images From the Book
A few of the 122 images and photos from the book, organized by chapter.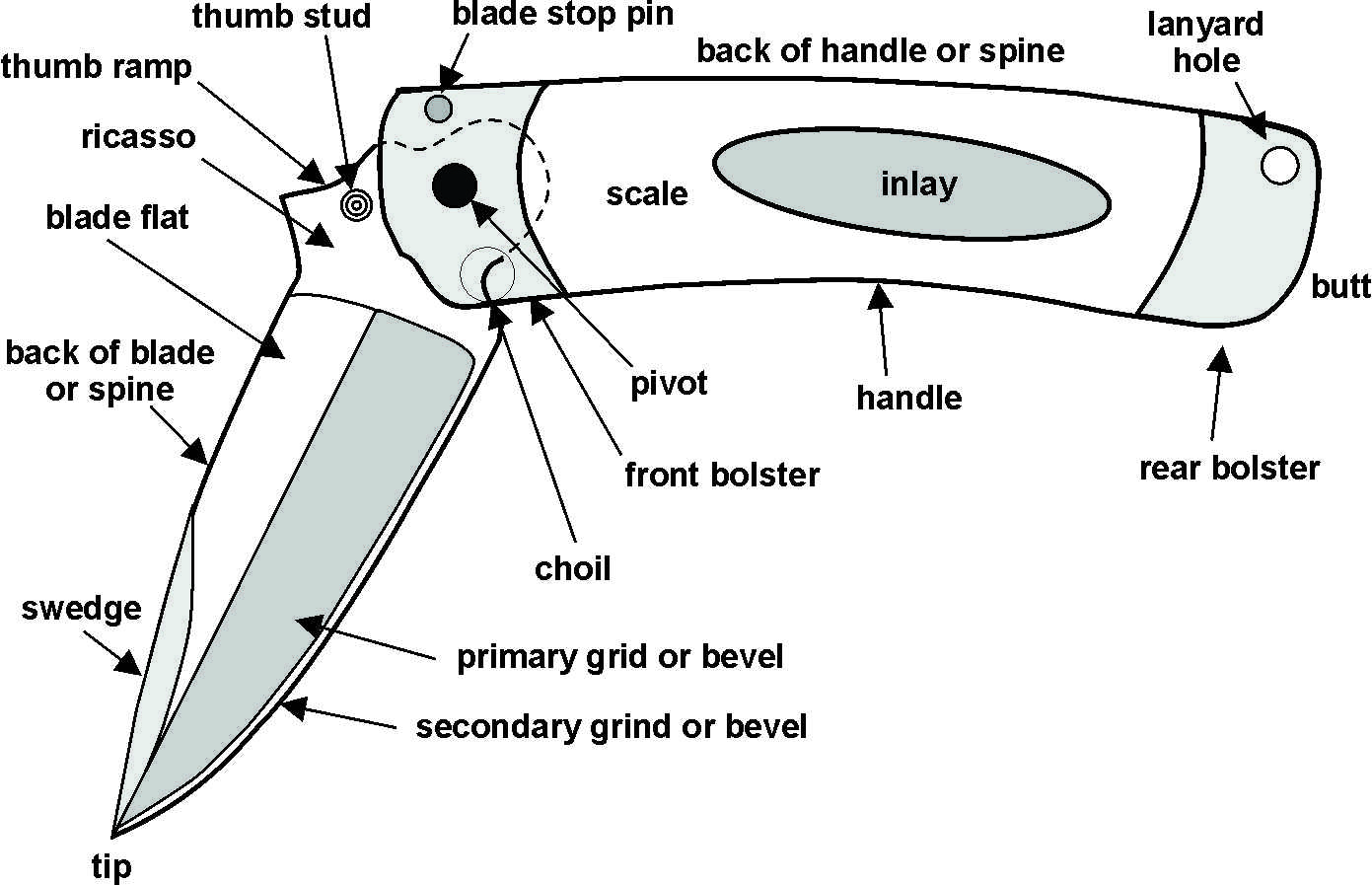 Excerpts
Here are a few excerpts from the book:
Videos
For a more detailed look at the book, please take a look at these:
If you would like to get your knives hair-whittling sharp, this book can help. For an example, here is a hair-whittling video
Table of Contents
Introduction

What Are You Going To Do With It?

Knife Anatomy and Operation

Knife Manufacturers
Knife Anatomy
Blade Grinds
Blade Shapes
Bevel Angle
Carry Positions
Opening Mechanisms
Locking Mechanisms
Blade Lock Issues
Handle Materials
Blade Construction
Blade Coatings
Blade Finishes
Knife Care
Exotic Knifes

Steel Metallurgy in Brief

The Properties of Steel
The Composition of Steel
The Structure of Steel
Heat Treatment of Steel
Alloy Steel
Powder Metallurgy
Steel Brands

Knife Sharpening

So You're Happy With The Factory Edge?
Types of Sharpening Methods
Sharpening Is Very Personal
Sharpening Frustration
Practical Versus Theoretical Sharpening
What is Sharpness?
When Is It Sharp?
Reasons For Sharpening
Grits and Microns
The Sharpening Process
Sharpening Stones
Sharpening Systems
Stropping
My Recommendations
Edge Maintenance
Purchasing Options
A Primer on Folding Knives is currently available only as an eBook (PDF file) priced at $19.95 and will be emailed to you once we receive payment. (File size is approximately 12MB.)
Payment is through PayPal, which you can use to pay by credit card even if you do not have a PayPal account.
Partners
Jende Industries: Experts on sharpening and sharpening supplies; knives and straight razors.
BladeHQ: Knives, outdoor and survival gear, axes, saws and more.
Corporate Partners
The following companies have bought multiple copies of "A Primer on Folding Knives" as a desk reference for their sales and support staff: